LCD 線材與 BIOS 整合服務
LCD Lighting Support
To make the system design with compact size to meet various embedded applications, LCD has been widely adopted as the display device. Unfortunately, there's no universal standard for the LCD interfacing connector. In order to help our customers, Axiomtek develops various LCD wiring kits and SmartView BIOS to easily install the chosen LCD module onto the targeted system.
The major 2 qualities of LCD enlightening service is making the physical wiring correct and modifying the VGA BIOS with proper registry configuration. The followings are the off-the-shelf solutions for this task:
LCD wiring kits: TTL, TTL-to-LVDS, LVDS transmission and receiving kits
SmartView VGA BIOS: 15 types of LCD selection, display sequence setting, and applications expansion feature. Axiomtek is continuous to provide LCD enlightening services; customers can get the most updated reference support list from Axiomtek's web.
Besides the LCD wiring kits, Axiomtek also provides different types of user-friendly accessories; such as, expansion riser cards for ISA/PCI/PCI-X buses, I/O cabling, I/O adapter boards, passive backplanes, functional I/O modules, thermal solutions and dedicated developing kits. These are very helpful peripherals for customers to simplify and shorten their system design time.
How to install the LCD Wiring Kits
To simplify the process of lighting up an LCD for embedded applications, you might refer to the LCD Support List to choose the suitable cable kit provided by Axiomtek to connect the LCD Panel to the SBC. The following photos illustrate the proper way to complete the first step of wiring. After the hardware installation is finished, go to CMOS setup by pressing "DEL" during POST to select the correct LCD type in the BIOS Setup Menu.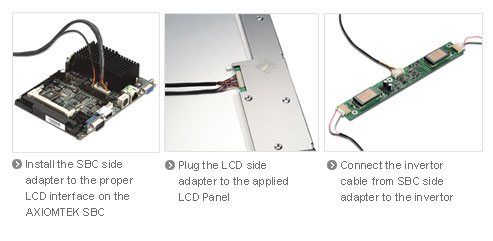 LCD Lighting Policy
The LCD Lighting Service provided by Axiomtek can help our customers to quickly integrate the LCD. For details, please refer to the LCD Lighting Policy.