OEM / ODM 服務
Welcomes all OEM/ODM Projects
We have the experience, capability, and R&D resources to make any OEM/OEM integration a glowing success! Axiomtek is an extremely versatile turnkey manufacturer with the ability to bring your concepts and ideas into viable computing solutions. We work with individuals and companies at all stages of design and manufacture, from concept to finish, in a highly focused effort to bring industry level products and services to you.
Once customer provides us with concept information and detailed specifications, we will notify them of the total cost for design, prototyping, and estimated cost per unit before the project begins. Axiomtek will work with customers until they are satisfied and all original design requirements are met, and the product performs exactly to customers' expectations. From Computer-on-Modules and SBCs to embedded integrated systems and application ready platforms, Axiomtek's OEM/ODM services cover the full project life cycle.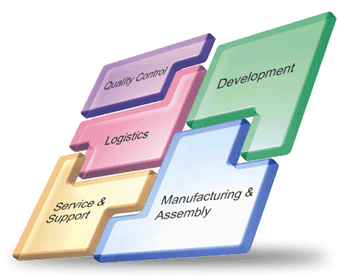 To maximize product availability, Axiomtek employs an international distribution network. Our worldwide inventory control and tracking system coordinates inventory among our offices located in Taiwan, USA, Europe, Japan and China to ensure prompt delivery every time. Axiomtek is an ISO9001, ISO14001, and TUV certified company. We maintain stringent quality standards in our manufacturing processes, and ensure products go through rigorous quality checks at every stage of production.
OEM/ODM Services
In order to meet the market's demand and provide the suitable solution, Axiomtek offers board level and system level customized design and integration service for the IPC market.
OEM/ODM Service for Single Board Computer and SoM
PCB placement / Layout / Assembly
Custom CMOS/BIOS Setting
Customized Indicated Accessories and Peripherals Pre-installed
Embedded OS
Environment Test
EMI / EMC Test
OEM/ODM Service for System Configuration and Integration
ID and Mechanical Customization
System Assembly
Custom CMOS/BIOS Setting
OS Installation
Completed System Test
EMI / EMC Test
Certification Tooling
Customized Packing Carton
OEM/ODM Service Flow Chart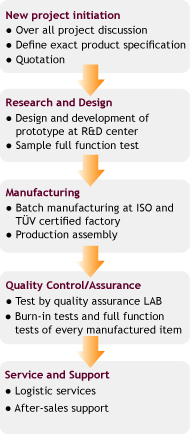 Our disciplined team approach allows us to be ahead of our competition in product development cycle time without compromising quality. Axiomtek is committed to delivering quality solutions to our customers through our OEM/ODM services. We are an expert in our field, as you are with yours. Axiomtek is committed to serving global solution integrators with flexible tailor-made designs and manufacturing services. Delivered straight from our corporate OEM/ODM Team, the products benefit our clients by lower manufacturing costs as well as a shorter lead-time for product development.
Manufacturing Capacity
Over 18,800 square meters of factory space, along with the latest manufacturing equipment gives us the capacity to fully service OEM/ODM business and achieve high quality on time deliveries with a low cost. We have the most advanced SMT assembly lines and optical inspection systems utilizing the lead-free technology. Our factory is engaged in manufacturing high density single-sided, double-sided, and multi-layer boards (up to 12 layers). Our manufacturing facilities are ISO-9001 and ISO-14001 certified. With manufacturing facility and logistic centers in Taiwan , USA , and China , Axiomtek is well positioned to meet the demanding business needs to ensure business success of Solution Integrators anywhere and anytime.